argin-left: 5.25pt"> MITSUBISHI electric automation (China) Co., Ltd. Henan eight party automation equipment Co., Ltd. for 8 consecutive years to participate in the Central Plains international industrial automation and instrumentation
MITSUBISHI electric machine automation (China) Co., Ltd. Henan eight party automation equipment Co., Ltd. continuous to participate in the international industrial control automation and Instrumentation Exhibition and MITSUBISHI electric new product technical forum. Next year the seventeenth session will be held in Zhengzhou International Convention and Exhibition Center in on May 2015, the exhibition area of 34000 square meters, more than 1550 booths. To undertake the construction of the Central Plains Economic Zone, sharing unlimited business opportunities.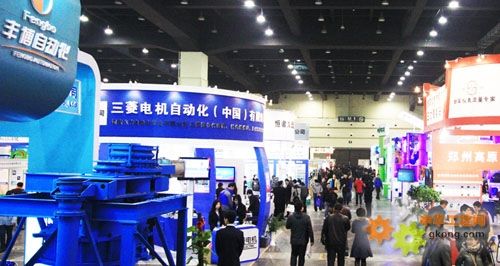 MITSUBISHI electric machine automation (China) Co., Ltd. for eighth consecutive years of 2015 years in full dress debut 14-17 May 2015 Seventeenth Central Plains international industrial automation and instrumentation exhibition.
MITSUBISHI Electric Co., Ltd. founded in 1921, is a leading global market for motor products supplier, currently has more than 100000 employees, is the world's 500 strong enterprises.
MITSUBISHI motor as a multinational, in the history of more than 90 years, has always been committed to cutting-edge technology and professional research, development and manufacturing. Mainly engaged in information communication system, electronic components, electrical systems, industrial automation system, automobile electric equipment and household appliances business, and is a world leader in the field of defense system, ventilation equipment. In addition, MITSUBISHI motor has excellent display device and display device technology.
MITSUBISHI motor group, based on the enterprise declaration "for better changes" toward "a better tomorrow", is committed to improving the technology, service and creativity, in order to achieve full of vitality and rich social contribution.
Ended in November 2012, Mitsubishi Electric in China joint venture, sole proprietorship enterprises has reached 34, they in the field of auto parts, semiconductor and other electronic devices, and power transmission and transformation equipment, elevators, railway vehicles within the broad field of motor products, industrial automation equipment, household appliances, such as electronic, machine, were carried out in a various undertakings and actively carry out technology transfer. MITSUBISHI motor (China) Co., Ltd. was established in October 1997, as an investment company, in the future we will further develop our investment activities in China, and as a comprehensive electronic and electrical enterprises - MITSUBISHI motor in China's window, will continue to develop and research in China and other units of the joint research and development, personnel training, cultural exchanges and other activities, for China Japan Friendship and contribute to China's economic development.
MITSUBISHI motor confidence and independent solutions provider strength. Our ultimate goal is to provide our customers with innovative solutions to promote their development, and by setting the higher standards in their respective markets to make it stand out in the industry.
Since the last century 20's to build a shipyard, MITSUBISHI motor has a long history in automation. So far, MITSUBISHI motor has developed into a Multi-National Corporation with more than $30000000000 in assets, more than 100000 employees worldwide. With our continuous improvement of the technical level, we have been committed to improving the speed, accuracy and quality of our products and business processes to provide a complete solution for China's booming industries.
MITSUBISHI motor has always worked together with the industrial technology, is committed to the technological innovation of FA products, and will keep pace with the times, adapt to the changing and development of enterprise production system.